Vegetable Pie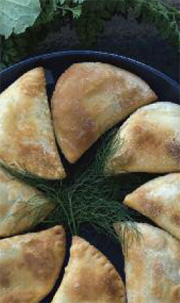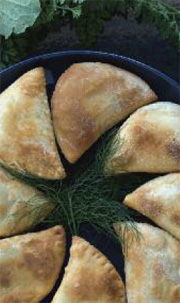 Made with Cretan extra virgin olive oil Oleum Kreta by Kidinakis Bros.
Ingredients for the filo
½ glass water
½ glass milk or yoghurt
5 tbspoons olive oil
1 teaspoon salt
flour (about 500gr)
Ingredients for the stuffing
1 kg greens (spinach, mangel, sorrel etc.)
4 tbspoons olive oil
1 onion or 5 spring onions
1 bunch of leek
1 bunch of parsley
1 bunch of mint
1 bunch of fennel leaves
½ cup kefalotyri or feta
salt and pepper
Directions
Preparing the dough: In a mixing bowl put the flour and pour the olive oil, the water, the milk or yoghurt and the salt. Combine them together and add water or flour if needed. Knead the dough into an elastic and firm ball. let it sit for an hour.
Preparing the stuffing: Wash and chop the greens. In a heated pan pour the olive oil and saute the chopped onion and leek. Add the rest of the of the herbs and greens and cover for 2-3 minutes. Let it cool and add the cheese, salt and pepper.
Cut the dough in smaller pieces and make a medium thickness filo. Use 1 tbspoon of stuffing for each filo and fold in half. Press the edges together and brush the top with olive oil or egg white. Bake for 30' in medium heat until brown.
Relative Products