Traditional greek meat balls with homemade pasta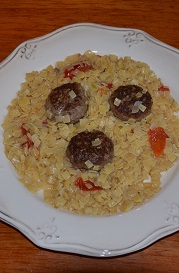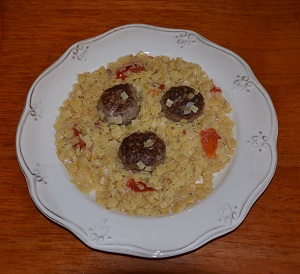 Delicious greek meat balls with Maggiri homemade pasta. A traditional recipe. 
A simple traditional food which is usually made with orzo, this time is made with Maggiri noodles. Make the burgers as you usually make them, and mold them into a medium size. Slightly fry them in a pan just enough to become brownish in both sides.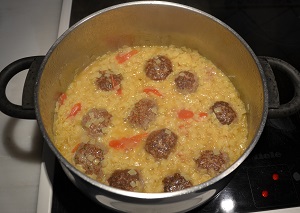 Mince a spring onion and a tomato and saute them in a pan with olive oil. Throw the burgers in and add water until they are covered. Let them boil for 2-3 minutes and add the noodles. Add salt and pepper and stir carefully. Add some boiling water if needed. The noodles will be ready in about 2-4 minutes. 
Serve hot and sprinkle with grated cheese.
My tip 
My grandma, who is from Grevena used to make this recipe on the traditional wood stove. I will never forget the first time I went to the village and ate this food. In no time grandma lit the wood. Made the burgers, cooked them for a while on the hotplate and then added the rest of the ingredients and finished the food adding orzo in a baking pan and put it in the wood stove's oven. It's taste was insuperable.
Clio
---
We send our Cretan products to every corner of the world. 
Make a journey to authentic Crete with myCretangoods.com and discover the top Cretan products. Find pure tsikoudia - Cretan raki, traditional rakomelo and organic Cretan wines from unique local varieties. Taste award-winning extra virgin olive oil, local herbs, aromatic and healthy thyme honey, homemade pasta and sauces, nutritious carob products, other tasteful Cretan goods and delicacies or other Greek products such as the famous Ouzo.  
Get ideas for special gifts with Cretan products or contact us if you want to create memorable customized business, corporate or conference gifts.
Relative Products