Rabbit meat with Cretan pasta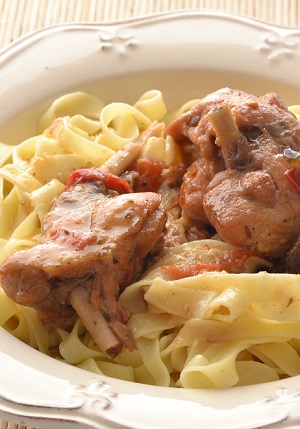 Ingredients
1 rabbit
2 onion
Extra virgin olive oil
1 glass white wine
1 tomato
1 lemon
Salt, pepper, oregano
1 package maggiri egg noodles
Directions
We suggest to buy the rabbit already cut in serving portions. Wash well and season it with the salt and pepper. In a hot pan drizzle some olive oil and sauté the rabbit. When cooked on both sides, add the wine.
Add the finely chopped onions in the pan and keep stirring well.
Add the chopped tomato and a glass of warm water.
When it comes to boil, turn the heat down, pour the lemon juice and sprinkle with 1 teaspoon oregano.
Let it boil for a while and remove it from the stove.
The wine rabbit has a slightly lemony sauce with a hint of oregano taste. The tomato which is chopped in large cubes doesn't turn the food red it just adds the flavor.
Boil the Maggiri noodles in salted water for 3-4 minutes, strain them and sprinkle them with a dash of olive oil.
Serve the noodles with the rabbit and its sauce in a deep plate.
Add grated Cretan cheese Graviera or dried Anthotiro.
---
We send our Cretan products to every corner of the world. 
Make a journey to authentic Crete with myCretangoods.com and discover the top Cretan products. Find pure tsikoudia - Cretan raki, traditional rakomelo and organic Cretan wines from unique local varieties. Taste award-winning extra virgin olive oil, local herbs, aromatic and healthy thyme honey, homemade pasta and sauces, nutritious carob products, other tasteful Cretan goods and delicacies or other Greek products such as the famous Ouzo.  
Get ideas for special gifts with Cretan products or contact us if you want to create memorable customized business, corporate or conference gifts.
Relative Products