SFAKIANO Cretan thyme honey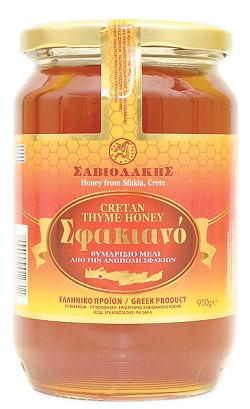 It is a great pleasure for us to welcome a new cooperation with the Saviolakis beekeeping family and their excellent thyme honey Sfakiano.
The Sfakia surrounding area is a virgin, pure and unique place of natural wild beauty. Characterized as a Natura area, is protected by Greek and European laws for its endemic and rare plants and animal species. The whole area is part of the Samaria national park. SFAKIANO honey by Saviolakis Family is collected from the White Mountains range at an altitude of 1,500 m.
Based in Anopolis, Sfakia, Saviolakis family is continuing its long term beekeeping tradition, harvesting the product from their own beehives and packaging it in ultra modern facilities complying with all national and international food safety specifications.
Since thyme is prevailing in the Sfakia surrounding area, Sfakiano honey has an authentic taste full of thyme aroma while retaining its nutritional properties since it is harvested without any chemical processing.
---
We send our Cretan products to every corner of the world. 
Make a journey to authentic Crete with myCretangoods.com and discover the top Cretan products. Find pure tsikoudia - Cretan raki, traditional rakomelo and organic Cretan wines from unique local varieties. Taste award-winning extra virgin olive oil, local herbs, aromatic and healthy thyme honey, homemade pasta and sauces, nutritious carob products, other tasteful Cretan goods and delicacies or other Greek products such as the famous Ouzo.  
Get ideas for special gifts with Cretan products or contact us if you want to create memorable customized business, corporate or conference gifts.
Relative Products