Turmeric flavored Fussili with Tuna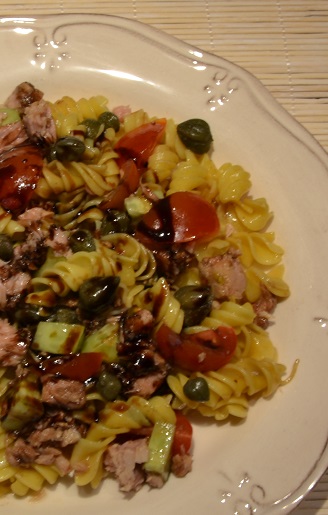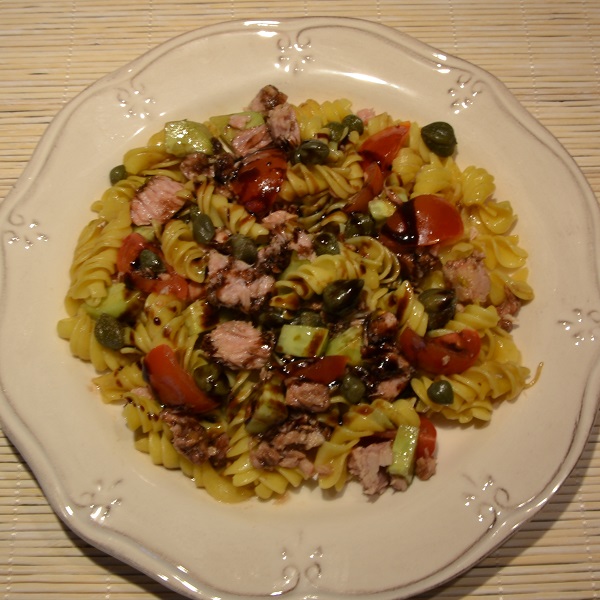 Ingredients
One package of Maggiri homemade turmeric flavored fussili
Two tuna fish cans
Capers Idaia Land
A few fresh cherry tomatoes
1-2 small cucumbers
VEE Extra virgin organic olive oil by Vassilakis Estate
Balsamic sauce with carob honey by Creta Carob
 
Directions
Boil the pasta for 3-4 minutes adding salt. Drain well, add some organic olive oil and toss lightly.
Cut the cherry tomatoes in 4 pieces and the cucumbers in small pieces.
In a large bowl, put the pasta, add the tuna fish, cherry tomatoes and cucumbers.
Sprinkle with olive oil, salt and balsamic sauce with carob honey and mix lightly.
Serve adding some caper knots and decorate the dish with some extra carob honey balsamic sauce.

This dish can also be enjoyed as a warm or cold pasta salad.
---
We send our Cretan products to every corner of the world. 
Make a journey to authentic Crete with myCretangoods.com and discover the top Cretan products. Find pure tsikoudia - Cretan raki, traditional rakomelo and organic Cretan wines from unique local varieties. Taste award-winning extra virgin olive oil, local herbs, aromatic and healthy thyme honey, homemade pasta and sauces, nutritious carob products, other tasteful Cretan goods and delicacies or other Greek products such as the famous Ouzo.  
Get ideas for special gifts with Cretan products or contact us if you want to create memorable customized business, corporate or conference gifts.
Relative Products