Carob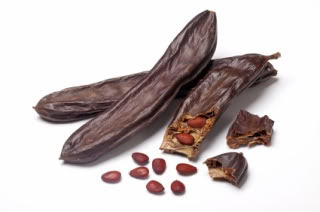 Health Benefits and Nutritional Value of Carobs
Carobs have excellent nutritional value, as they are rich in calcium and proteins. They also contain magnesium and several important minerals, as well as, vitamins A, B, B2, B3, D, and thus, carobs boast many significant health benefits.
•    Contain tannins that are rich in Gallic acid, providing anti-allergic, antiseptic and anti-bacterial benefits.
•    Rich in insoluble fibers.
•    Good source of vitamin E.
•    Contain Thiamin (vitamin B), Riboflavin (vitamin B2), B3, Niacin (vitamin A), alpha-tocopherol, and vitamin D2.
•    Full of antioxidants and phytonutrients.
•    High in potassium and magnesium.
•    Rich in Calcium, Iron, Phosphorus, Manganese, Barium, Copper, Nickel
•    Gluten-free.
•    Caffeine- free.
•    100% natural with no chemicals or preservatives.
 
Carob is a natural remedy in the treatment of many health issues, such as:
Digestive problems
Regular carob consumption promotes a healthy digesstive system. The tannins found in carobs increase the effectiveness of certain enzymes that help regulate the digestion process.  Additionally, carob provides powerful anti-viral benefits that supply the body with essential antioxidants. Foods rich in tannins are often recommended for treating diarrhea and heartburn as it also reduces acid production.

Lowering cholesterol levels
Due to the high percentage of insoluble fiber, carobs have the potential to lower cholesterol levels. They have high levels of lignin and polyphenols, which are powerful antioxidants.

Regulates blood sugar levels
Carobs contain fibers that naturally help to regulate blood sugar levels. As an insoluble fibers product, carob helps water bind in the digestive tract, which enhances the health of the intestinal tract and regulates blood glucose.

Weight control issues
Carob fibers have beneficial effects in energy intake, and thus, reduce body weight.

Osteoporosis
Carob has a high concentration of phosphorus and calcium, which help fight osteoporosis.

Common colds or influenza
As carobs are rich in vitamin E, and full of antioxidants and phytonutrients, they have been suggested for the treatment of anemia, coughs, colds and influenza. Carobs also contain Gallic acid that provides anti-allergic, antiseptic, and anti-bacterial benefits. In some rare cases, experts have proposed that carobs be used by patients with lung cancer.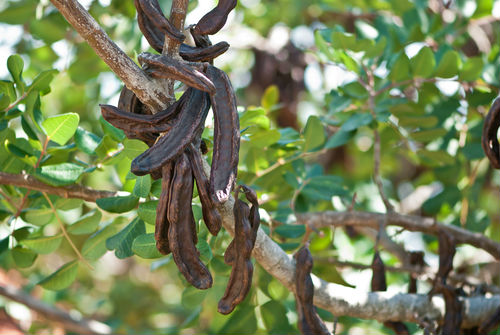 CAROB TREE

An evergreen, slow growing, medium sized tree (growing up to 15 meters in height) with broad dark green leaves. Carob trees have grown in most countries of the Mediterranean basin since antiquity. Its value was recognized by the ancient Greeks 4000 years ago, who brought it from its native Middle East to Greece and Italy. It is a highly versatile and useful tree as there are a wide range of products derived from its fruit and timber. The production of fruit begins around the age of 15 and continues for the entirety of the plant's llife.. Foods for both human and animal consumption are obtained from its seeds, pulp and seed pods. Every part of the fruit is consumable.

Carobs are used in the manufacturing of  baked goods, confectionary, bars, snacks, cereal, dairy products, cocoa products and beverages. The other major food source derived from Carobs comes from the pod itself, which forms a high protein powder that is an effective substitute for Cocoa powder.
Carob powder is free of the allergic and addictive effects of caffeine and theobromine present in cocoa. It also contains less fat and more sugar than cocoa. Carob has become a popular chocolate substitute used in a huge variety of confectionery products and drinks as well as a general sweetener and flavoring agent. Carob is also used to make flour, molasses, alcohol and a substitute for coffee and eggs.

Relative Products