Chicken fillet with raisins and tangerine sauce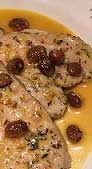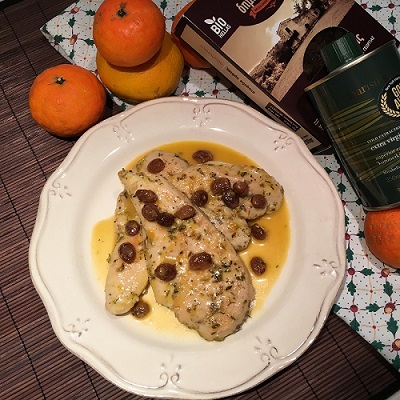 Ingredients
Boneless chicken breast fillets
Salt, Pepper
Thyme by Iliostasio
Extra virgin olive oil by Oleum Creta
Eltyna white wine
1 cup of mandarine orange juice
Organic raisins by Ambelodimiourgies

Directions
Slice the chicken breast in 3-4 thin fillets.
Season the chicken fillets with salt, pepper springle a bit of thyme and a bit of olive oil.
Mix the above and leave it for about half an hour to marinade.
Add the chichen fillets to heated non-stick frying pan. Once the chicken fillets are brown coated on both sides, add a glass of the Eltyna white wine.
Cook until the wine evaporates and add the mandarine juice and the raisins.
Reduce heat and simmer for 2-3 minutes to retain the sauce.
Serve with rice or fresh mash potatoes.


 
---
We send our Cretan products to every corner of the world. 
Make a journey to authentic Crete with myCretangoods.com and discover the top Cretan products. Find pure tsikoudia - Cretan raki, traditional rakomelo and organic Cretan wines from unique local varieties. Taste award-winning extra virgin olive oil, local herbs, aromatic and healthy thyme honey, homemade pasta and sauces, nutritious carob products, other tasteful Cretan goods and delicacies or other Greek products such as the famous Ouzo.  
Get ideas for special gifts with Cretan products or contact us if you want to create memorable customized business, corporate or conference gifts.
Relative Products