Greek Mrs Lent (Kyra Sarakosti)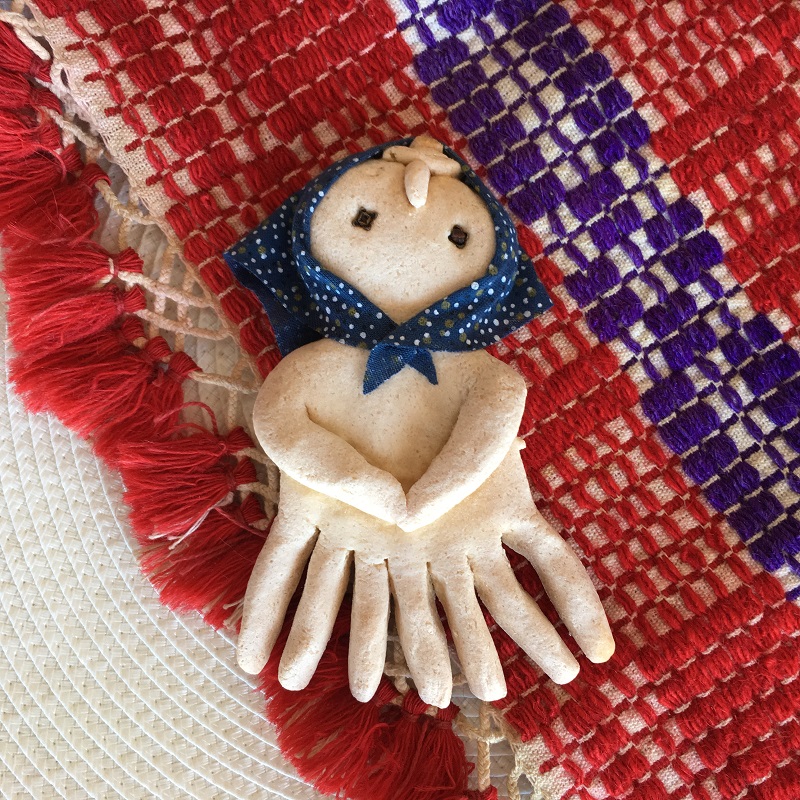 Lent is the fourty day fasting period beginning right after Ash Monday (Clean Monday) until Easter. An old custom regarding lent is the making of  Kyra Sarakosti (Mrs. Lent).
Kyra Sarakosti is usually made with dough as a woman with a scarf on the head, seven legs, arms folded -because she is praying-, and no mouth because she is fasting throughout this period. Every Saturday, starting with the one after Ash Monday, "Mrs. Lent" loses a leg. Basically, this creation played the role of a calendar with each leg representing one week.
Simple to make:
 3 cups flour
 1 cup salt
 1 cup water
Put all the ingredients in a bowl and knead until dough becomes smooth.

Shape Mrs. Lent (Kyra Sarakosti) with the dough making her body, the skirt, the face and the legs. Decorate as desired and place it in preheated oven at 160o Celsius (320o Fahrenheit) for 20-30 minutes. The purpose is to dry the dough, not bake it.

Break one leg every Saturday! After breaking the final leg, it is Easter Sunday!

 
Note: The picture above represents my younger doughter's piece of art in school. They used the above simple recipe to make Mrs Lent. She came home proud of her creation and told me a nice poem about Mrs Lent.
Today, it is the first Saturday after Ash Monday and she woke up quite early in order to break the first leg!

Easter countdown has began!
---
We send our Cretan products to every corner of the world. 
Make a journey to authentic Crete with myCretangoods.com and discover the top Cretan products. Find pure tsikoudia - Cretan raki, traditional rakomelo and organic Cretan wines from unique local varieties. Taste award-winning extra virgin olive oil, local herbs, aromatic and healthy thyme honey, homemade pasta and sauces, nutritious carob products, other tasteful Cretan goods and delicacies or other Greek products such as the famous Ouzo.  
Get ideas for special gifts with Cretan products or contact us if you want to create memorable customized business, corporate or conference gifts.