35N Cretan Distillery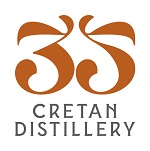 35N Cretan Distillery was founded by a group of friends that count more than 30 years of friendship. George Markoulakis, Pantelis Fanourgakis and Elias Melissourgos joined their forces in order to produce excellent tsikoudia spirits worthy of the history and tradition of this local spirit. Using grape varieties with distinctive, unique taste characteristics and high quality, they produce blended tsikoudia 35N, single-variety tsikoudia from Moschato and Syrah and the aromatic rakomelo, tsikoudia with honey 35N. The distillation takes place in Rethymno, in the distillery of Elias Melissourgos.
The name of tsikoudia 35N is inspired by the geographical parallel 35N that crosses Crete. The location of the island, which determines its unique climate and all the goods that it allows to produce. For 35N Cretan Distillery, Cretan tsikoudia 35N is a distillate made with passion, full of stories and experiences.
Producer's products