Douloufakis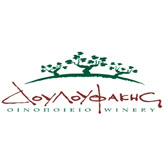 The viticulture and wine production is tradition for Douloufakis Family carried from generation to generation as the spirit of valuable experience. Nowadays the vine-yard cultivation and wine-production tradition of the Family is continued by the grandson Nikolas Douloufakis who studied Oenology in Italy (Alba Intituto Agrario-Spezialitato in Diviticultura e Enologia).
The privately owned vineyards are situated in Dafnes a village close to Iraklio in Crete, at an altitude of 350 meters on hillsides. Nick Douloufakis develops both cretan indigenous varieties such as Liatiko, Kotsifali, Vilana, Vidiano and international as Syrah, Cabernet Sauvignon, Chardonnay, etc.

It was in 1952 that Douloufakis Family was awarded for the quality of its wines. Since then they produce award-winning wines.
The winery's vineyards have applied organic methods of supervising by the organization "DIO" and the wines are certificated according to the standards (EC) 834/07 and USDA-NOP.
Producer's products