Home

/

Greek Ouzo Barbayanni
Greek Ouzo Barbayanni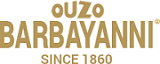 Efstathios J. Barbayannis arrived in Plomari, Lesvos, in 1860, bringing with him knowledge and experience of the distillation processes from the Russian city of Odessa.
Lesvos Island has always been a fertile island, with an excellent climate, providing a superior variety of anise, the seed that is the basic flavoring ingredient of ouzo. Tens of other kinds of sweet-smelling herbs also grow on this land, contributing to the particular scent of ouzo, a fragrance that is characteristic of Greece.
It is on Lesvos that Efstathios Barbayannis first distilled and produced his excellent-quality ouzo liquor, which is known as Ouzo Barbayanni Blue. Since then, five generations of the Barbayannis family have followed in his footsteps, faithful keepers of the traditional method of manufacturing their unique greek ouzo liquor.
Producer's products