Cretan Raki (Tsikoudia), Ouzo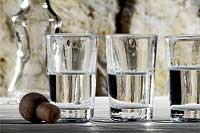 Tsikoudia and Ouzo are the most popular and traditional Cretan Spirits.
Tsikoudia and Ouzo are the traditional drinks which can be found in every household in Crete. Almost every family with vineyards produce their own homemade tsikoudia and is usually offered to welcome guests, serve it before a meal accompanying starters or after dinner, as an aperitif, with fruit or dessert. In my Cretangoods you will find authentic Cretan tsikoudia, aged tsikoudia and other tsikoudia spirits as well as the traditional Rakomelo made with high quality Cretan tsikoudia, thyme honey and cinnamon cloves. An ideal spirit to enjoy hot in the winter or cold in the summer.