Cretan Sariki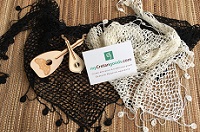 Cretan Sariki is the head turban of the traditional Cretan costume.
Looking for the best Cretan gifts for friends and family? Sariki remains an integral part of the Cretan attire and culture up to this day and is considered a great gift idea.
This elaborate Cretan headband symbolizes the occupation of Crete by the Turks. It is said that its dense knitting and fringes symbolize the tears and the mourning that were caused by the tragic events of the period.
Sariki in Crete is knitted in two colors, black and white. White and off-white colors symbolize happiness and are worn on occasions such as weddings and baptisms, while black symbolizes bravery, pride, and grief in the life of Cretans.
Nowadays, this Cretan headscarf is still worn by many Cretans, mainly in black, representing Cretan leventia (bravery). It is worn either wrapped around the head or on the shoulders.
Check out our wide range of Sariki, woven goods, traditional cretan delicacies and traditional Cretan knives and create a unique box full of Cretan culture to offer your friends and colleagues.
Browse our e-shop mycretangoods.com and discover the best traditional hand knitted Sariki in white or black color: unique craftsmanship, knitted with the finest traditional thread to ensure that the quality of the Sariki will remain perfect for years.
more