Cretan Sariki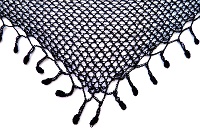 Cretan Sariki is the head turban of the traditional Cretan costume.

Sariki remains up to date an integral part of the Cretan attire and culture. Many Cretans wear black sariki in their everyday lives but use the white one in weddings and Christenings. It is worn either wrapped around the head or on the shoulders.
In our eshop you can find traditional hand knitten Sariki in white or black color. Unique craftsmanship, knitted with the finest traditional thread, which ensures that the quality of the Sariki will remain the same for many years.