Conference Gifts, Corporate Gifts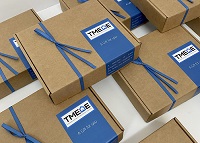 Impress your clients, colleagues, and staff with thoughtful business gifts!
Discover our wide variety of elegant gift boxes and pouches filled with carefully selected traditional Cretan products and leave a memorable impression.
We offer custom made corporate and conference gifts or other event gifts to meet every need, at the best price.
Organizing an event and looking for unique conference gift ideas for your guests? You can choose the products you'd like to offer as a gift, and we can put them together in beautiful bags and pouches or elegant boxes.
The largest selection of Cretan gifts is at your disposal: get unique corporate gifts, ideal for conferences, hotels, travel agencies or any other professional obligation you may have.
Find business gifts for clients to show your gratitude as well as business gifts for employees to celebrate special occassions. 
Corporate and Christmas gifts for clients with a Cretan flair will definitely leave lasting impressions.
We can also suggest gift combinations with other fine and traditional Greek products from selected Greek producers.
Get in touch with us directly at 0030 6942 550815 (Clio Souranaki) to ask for a quote and we will be more than happy to suggest the best possible solution to suit your company's needs and preferences.
more
Items 49 to 71 of 71 total
Items 49 to 71 of 71 total
Grid List