Corporate Gifts - Conference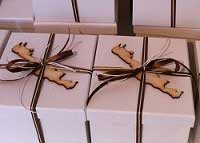 Traditional and eclectic Cretan products for conference gifts, corporate and public relations gifts. Impress your friends and business associates with unique Cretan or Greek character gift baskets and creative business gifts including the very best of Cretan wines, food and drinks and natural cosmetics.
We can propose tailor made ideas for corporate, conference or any public relation gift, to fit your budget. Call at 0030 6942 550815 (Clio Souranaki).