Cretan goods shipped worldwide
Dear friends and customers,
Thank you for being a valuable part of our world!
Help us reach more places around the globe by spreading the word about mycretangoods.com.
We look forward to "pinning" mycretangoods.com all over the world and deliver Crete's greatness to your doorstep.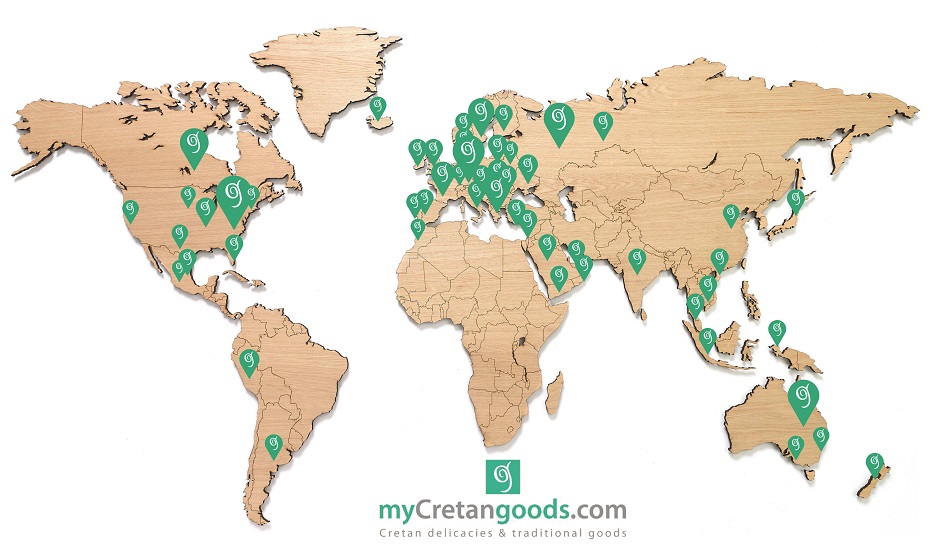 Our Cretan goods reliably shipped worldwide
We have been conveniently shipping our Cretan goods and delicacies to many countries around the globe. Since our establishment in October 2014, we have effectively and accurately delivered our specialty products to 49 countries:
Argentina
Australia
Austria
Bachrain
Belgium
Canada
Chech Republic
Croatia
Cyprus
Denmark
Estonia
Finland
France
Germany
Greece
Hong Kong
Hungary
Iceland
India
Indonesia
Ireland
Israel
Italy
Japan
Latvia
Lithuania
Luxemburg
Morocco
Mexico
Norway
Netherlands
New Zealand
Peru
Philippines
Poland
Portugal
Romania
Russia
Saudi Arabia
Serbia and Montenegro
Slovakia
Spain
Sweden
Switzerland
Thailand
Ukraine
United Arab Emirates
United Kingdom
United States
And the journey continues...