Saloustros tea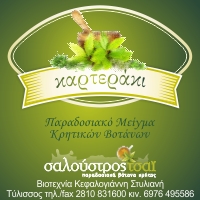 The unique, diverse and blessed Cretan land not only inspires all those engaged in agricultural activities but offers ultimate treasures and hidden secrets when cultivated and cared for responsibly. The people of Anogia have been struggling with stones for centuries now but they always manage to derive "small diamonds" from them.
One of them is "Karteraki", a "small diamond" which Giorgis Saloustros, known to all people of Anogia as "Karabinis" worked on it really hard, perfected and now offers to the rest of us.
It is the business that started in 2008 and has conquered the island of Crete which has learned to drink its own concoction with mountain herbs. It is slowly beginning to spread to the rest of Greece ...
Producer's products