Greek Spirits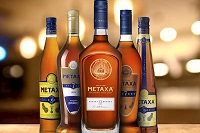 The famous Greek spirits such as ouzo, tsipouro, tsikoudia, Metaxa, mastic liqueur and many other Greek spirits have been known and loved all over the world. Every traveler in Greece has tasted and enjoyed them.
Exquisite ingredients from the Greek land, fruits, nuts and aromatic herbs are used for the creation of these Greek spirits. The high quality and uniqueness of Greek drinks & spirits is a result of the long tradition and centuries of know-how in distillation. The splendid aromas of Greek spirits come from the Greek mountains, which are rich in aromatic herbs, and of course from the salty sea breeze.
We have selected and you will find available some of the top Greek spirits. We send them to your home for you to enjoy.
more
Items 1 to 48 of 53 total
Items 1 to 48 of 53 total
Grid List