Tsikoudia Cretan Raki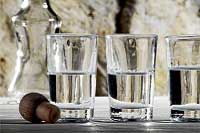 Tsikoudia the famous Cretan Raki is the most popular traditional Cretan Spirit.
Order online authentic Cretan Tsikoudia (Raki) the beloved traditional spirit of the island of Crete. Tsikoudia is offered as a welcome drink to friends and guests. It is served either before a meal to accompany starters or after dinner, as a digestive, usually paired with fresh seasonal fruits, spoon sweets or Cretan desserts. In myCretangoods.com you will find the best authentic Cretan Tsikoudia, aged tsikoudia and other tsikoudia liqueurs as well as the traditional Rakomelo made with high quality Cretan tsikoudia, thyme honey and cinnamon cloves.
Cretan raki or tsikoudia is the spirit that will break the ice and create new long lasting friendships!
more