Bakery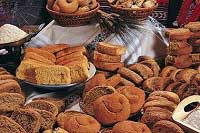 Crete is famous for her rusks (double baked bread) and bakery products. You will find them in family bakeries in every village, town or city around the island.
Traditional Cretan rusks (paximadia) are made from wheat, whole grain barley, mixed barley and wheat, carob and no-knead bread.Rusks come in all shapes for every purpose, round shaped for dakos, mini bites, with herbs, carob or whole wheat and salad bowl shaped for excellent salad creations,e.t.c.
Cretan traditional biscuits made with Cretan olive oil according to centuries old recipes.
Carob based rusks and biscuits and other Cretan carob products.

more