Cretan Sariki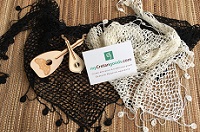 Cretan Sariki is the head turban of the traditional Cretan costume.
Sariki remains up to date an integral part of the Cretan attire and culture. This elaborate textile is a symbol of the occupation of Crete by the Turks. It is said that its dense knitting and the fringes created symbolize the tears and the mourning that were caused because of the tragic events of that period. Sariki is knitted in two colours, black and white. White symbolizes happiness and is worn on occasions such as weddings and baptisms, while black symbolizes bravery, pride and grief in the life of Cretans.
Nowadays it is still worn by many Cretans, mainly in black, tied on their heads or loose on their shoulders, representing Cretan leventia (bravery). It is worn either wrapped around the head or on the shoulders.
In our e-shop you can find traditional hand knitten Sariki in white or black color. Unique craftsmanship, knitted with the finest traditional thread, which ensures that the quality of the Sariki will remain the same for many years.
Items 1 to 14 of 14 total