My Greek Gifts - Gift Ideas with Greek Products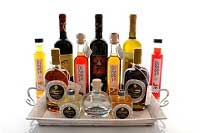 Discover My Greek Gifts – Gift Ideas with Greek Products full of aromas, flavors, and memories from Greece.
Shop the best Greek gifts online, gifts that will make a lasting impression: well-known Greek
spirits, mixtures of fine spices & herbs, tasty treats & delicacies, handmade decorative items, and
other selected Greek gifts await you.
We are at your disposal to suggest unique combinations of traditional Greek gifts according to
your needs and preferences.
Get in touch to discuss all available options and recommend the right Greek gift set to offer your
guests, friends, or business partners.
Handmade ornaments, traditional dishes, and local drinks like raki and tsipouro can be
harmoniously combined to create authentic Greek gifts or Greek food gift baskets that meet your
requirements.
My Greek Gifts are available in stylish packaging usually in earthy colors or colors of the Greek
flag, wrapped with care and shipped worldwide.
Depending on the season and your preferences, we can adjust the final aesthetic appearance of each
package and come up with unique Greek themed gifts especially created for you.
Explore more options full of Greek aromas and flavors Cretan gifts, Business & Conference Gifts as
well as Gifts for weddings and baptisms.
more