Tsikoudia/Raki
Cretan Tsikoudia - Raki
Raki or tsikoudia is the traditional Cretan spirit, a 100% natural product without preservatives and additives, an authentic distillate full of flavors and aromas. It is obtained by distilling the marcs, or tsekouda as they are called in Crete (hence the name tsikoudia). The marc is what remains from the grapes after they are squeezed to release their juice and produce wine.
The grape marc distillation results in this transparent crystal spirit, the distinctive welcome drink of Crete to enjoy with good company. Raki or tsikoudia is a symbol of Cretan hospitality, it represents friendship, companionship and joy. Raki is served in every household, in every cafe and traditionally in the taverns after a rich meal the tavern owner will treat you a raki carafe.
Raki should never be consumed plain! It has to be accompanied by tasty appetizers and other treats. You can enjoy it with Cretan rusks, tomatoes, cucumbers, olives and cheese, or seasonal vegetables such as beans and artichokes in the spring, fresh fruit in the summer or homemade pastries.
Raki is served frozen in small shot glasses either as an aperitif or as a digestive.
The future of Cretan Tsikoudia
The future of tsikoudia seems to be very promising thanks to the inspiration, insight and dynamics of Cretan distilleries and wineries.
For many years Cretan tsikoudia was produced in small quantities in every village and every household across Crete. Homemade tsikoudia was distributed mainly in plastic water bottles. A precious treasure that was generously given from hand to hand as a symbol of friendship, appreciation, joy and well-being.
During the last decade, tsikoudia became extremely popular all over Greece so that tsikoudia of dubious quality and origin began to be traded. The high demand for large quantities of bulk low price raki caused problems of uncontrolled distributing. An alcoholic spirit cannot be placed on the market without the production and bottling legislation being followed and without the official name of the producer or bottler on its label. 
Tsikoudia-raki has now been established as a PDO product, representing traditional Crete all over the world. It is of high importance that tsikoudia receives the due attention from the initial phase of distillation, bottling, distribution to the final consumption.
Mrs. Maria Stamataki, producer of Kretaraki tsikoudia, emphasizes that the quality of tsikoudia is crucial and must be strictly controlled in order to ensure safe consumption.
Stamatakis family founders of the DS Distillers was one of the first distilleries to establish a strong presence of tsikoudia products in elegant packaging with an acclaimed brand name and managed to export Kretaraki tsikoudia to many countries abroad.
Best Cretan Tsikoudia Brands to order online
KretaRaki Traditional Cretan Tsikoudia
Kretaraki Tsikoudia Cretan Raki is made from selected sweet sultana grapes gathered from  mountain vineyards in Crete. The grapes are fermented for 30 days and then, a double extraction follows in order to collect only the pure heart of tsikoudia. Kretaraki Tsikoudia is a pure distillate of superb quality with a peppery and fruity flavour, that is characteristic of the authentic cretan tsikoudia.
DS Distillers company focuses on the creation of high quality products following all necessary steps in the production chain, with consistency, safeguearding the quality of raw materials, respecting farmers, nature, and the consumers. Their goal is to bring out the best possible outcome and put in place the Cretan Raki and all other Greek distilling products.
Kretaraki Cretan Tsikoudia Raki 200ml in gift box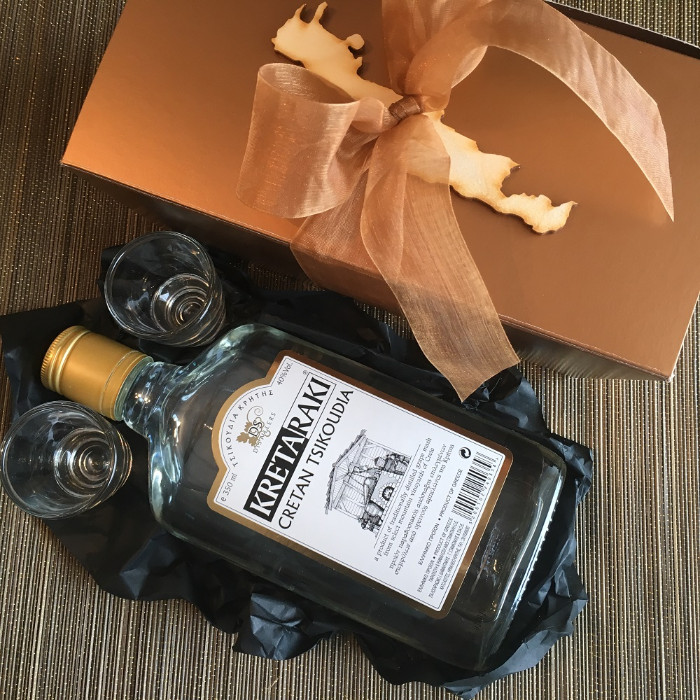 Tsikoudia Paradise by Domaine Paterianakis
Single Variety Cretan Tsikoudia Paradise from Kotsifali
Domaine Paterianakis is the first winery in Crete to produce organic wines. After years of research and many efforts, Paterianakis sisters (the second generation operating the winery) produced 2 special single variety tsikoudia spirits using 100% Cretan grape varieties of organic cultivation, tsikoudia from Vidiano and tsikoudia from Kotsifali. The name of this tsikoudia, "Paradise", is inspired from the land of their vineyars which Paterianakis family considers to be their own paradise.
Paterianakis winery is open for visitors during summertime. If you ever come to Crete you should not miss the chance to visit it,taste their organic wines, the unique tsikoudia distillates, walk around the vineyards and enjoy yourself in this magic landscape.
Tsikoudia Paradise Single Variety Kotsifali by Domaine Paterianakis
Tsikoudia Paradise Single Variety Vidiano by Domaine Paterianakis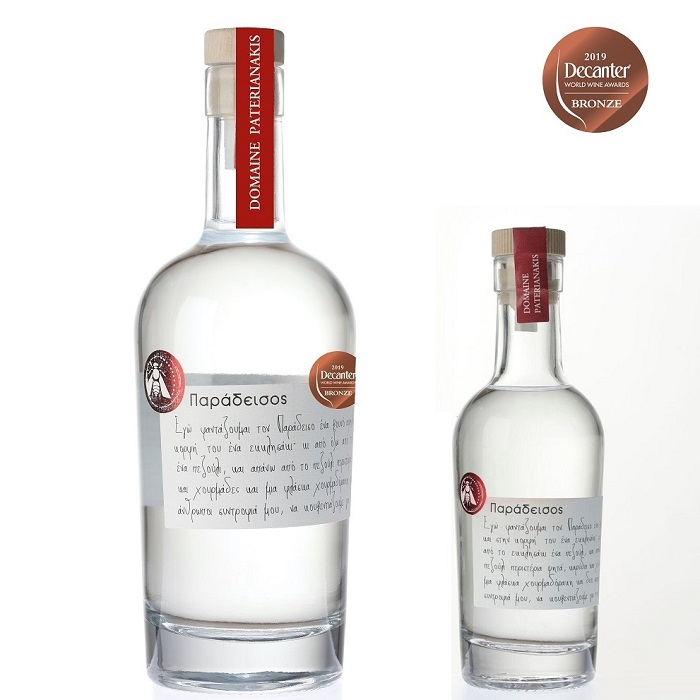 Tsikoudia Raki by Vassilakis Estate
Vassilakis estate consists of beautiful olive groves and is well-known for the production of excellent olive oil. Among the olive groves there are some areas where the Vasilaki family cultivates their own vineyards to make their own homemade wine and famous traditional tsikoudia which they bottle in small quantities. You will find Tsikoudia Vassilakis available in 700ml and 200ml bottles.
Cretan Tsikoudia by Vassilakis Estate 700ml
Cretan Tsikoudia by Vassilakis Estate 200ml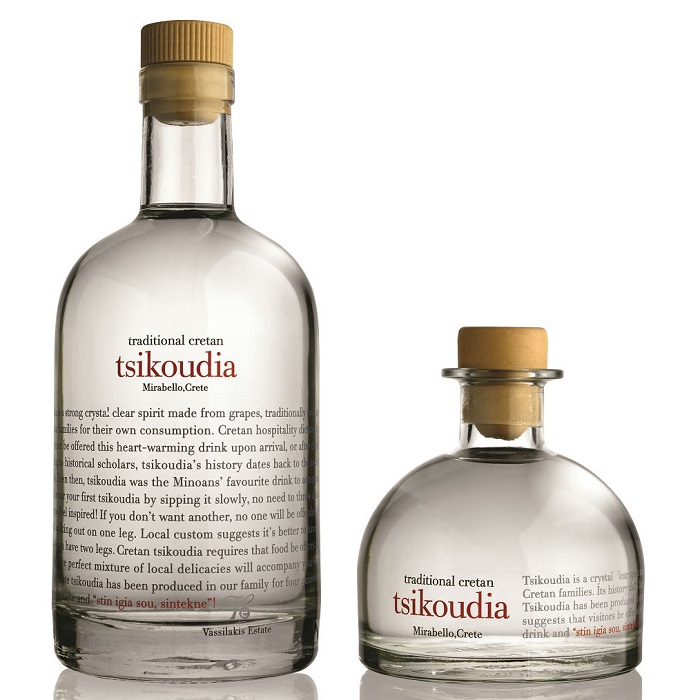 Aged Cretan Tsikoudia by Toplou Monastery in Sitia. 
In the region of ​​Sitia, in eastern Crete, the land is ideal for the cultivation of vineyards. The grape varieties that grow there produce wines and tsikoudia with unique qualitative characteristics. From the organic vineyards of Toplou Monastery is produced a fine tsikoudia distillate that is distinguished for its special aromas and superior quality. However, the diamond of the Toplou Monastery is its aged raki - tsikoudia that is produced from fresh glued marcs and is aged in oak barrels.
Aged Cretan Tsikoudia Toplou Aged Traditional Cretan Distillate / Product of Organic cultivation
Organic Tsikoudia by Toplou Monastery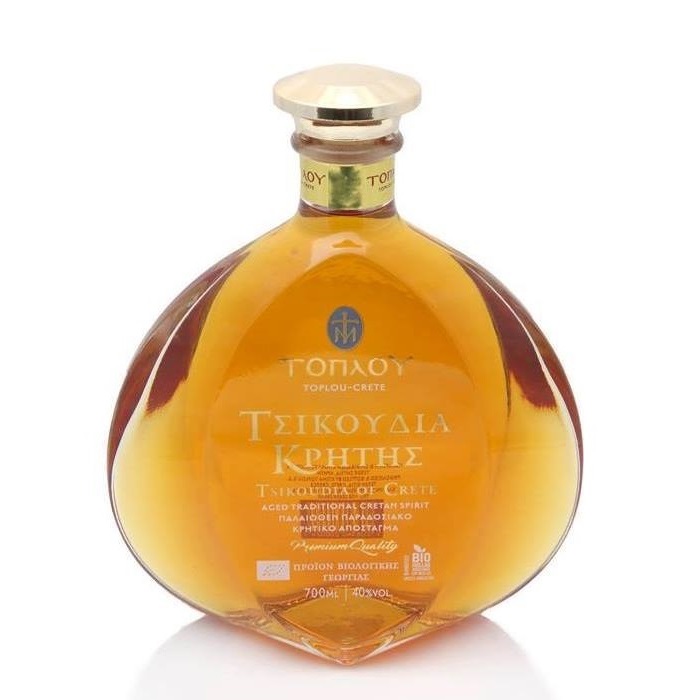 Relative Products