Cretan Raki (Tsikoudia), Ouzo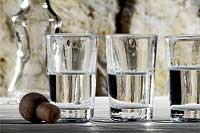 Tsikoudia and Ouzo are the most popular and traditional Cretan Spirits.
Tsikoudia and Ouzo are the traditional drinks which can be found in every household in Crete. Almost every family with vineyards produce their own homemade tsikoudia and is usually offered to welcome guests, serve it before a meal accompanying starters or after dinner, as an aperitif, with fruit or dessert.
Here you can find the best selection of:
Tsikoudia -Greek Raki- the traditional Cretan welcome drink, an integral part of the local identity and hospitality.
Rakomelo -raki (tsikoudia) with honey- served warm especially during winter.
Tsikoudia flavoured with almond, strawberry, orange, caramel or coffee the new innovative Cretan Spirits.
Cretan Ouzo - the second most traditional spirit in Crete.
Items 1 to 31 of 31 total