Cretan Raki (Tsikoudia), Ouzo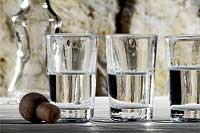 Tsikoudia and Ouzo are the most popular and traditional Cretan Spirits.
Tsikoudia or Greek Raki is the traditional Cretan welcome drink, an integral part of the local identity and hospitality.
Rakomelo is raki (tsikoudia) with honey and is served warm during winter.
Tsikoudia with flavours such as Tsikoudia with almond, strawberry, orange, caramel and coffee are the new and upcoming Cretan Spirits.
Cretan Ouzo is the most traditional Greek Spirit but in Crete comes second behind raki.