Carob Cake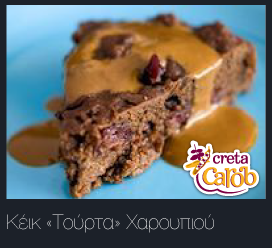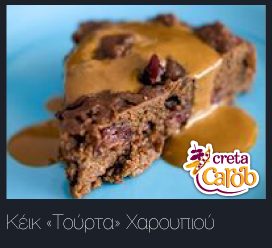 Ingredients
For the cake
1 cup of flour 
1/3 cup of raw carob powder
2 tablespoons of grapeseed oil
3 tablespoons of granulated sugar
1 tablespoon of carob syrup
2 tablespoons of yogurt
1/3 cup of milk
1 teaspoon of vinegar
1/2 teaspoon vanilla
1 teaspoon of baking powder
A pinch of sea salt
For  the topping
3 tablespoons of carob syrup
4 tablespoons of yogurt
1 and 1/2 tablespoon of granulated sugar

Directions
Combine the flour, vanilla, salt, raw carob powder and baking powder with a whisk.
Add the vinegar to milk and let it curdle for 5 minutes. Combine the remaining liquid ingredients and pour in the mixture of flour and milk.  Use a spatula to mix everything together until combined.
Pour into a baking dish and bake in a preheated oven for 12 minutes or until a knife inserted comes out clean at 180 C. Allow to cool.
Prepare the topping by mixing the syrup, yogurt and sugar and keep refrigerated.
Drizzle the topping on the cake when ready to serve.
Makes 8 servings 
---
We send our Cretan products to every corner of the world. 
Make a journey to authentic Crete with myCretangoods.com and discover the top Cretan products. Find pure tsikoudia - Cretan raki, traditional rakomelo and organic Cretan wines from unique local varieties. Taste award-winning extra virgin olive oil, local herbs, aromatic and healthy thyme honey, homemade pasta and sauces, nutritious carob products, other tasteful Cretan goods and delicacies or other Greek products such as the famous Ouzo.  
Get ideas for special gifts with Cretan products or contact us if you want to create memorable customized business, corporate or conference gifts.
Relative Products